Without fully disclosing my age and which X,Y,Z generation I belong to I can say that as a child in America, the television program Mr. Rogers Neighborhood was a quintessential part of my youth. And his "who are the people in your neighbourhood" segment was beloved. At its core, My Community Festival is the expanded narrative that overflows with nostalgia and a love for all things community. It encourages participants to explore the meaning of "My Home Sweet Home" and get out and meet their neighbours. 
By the community, for the community the festival runs From August 5 to 21 2022 with ticket sales starting 20 July. My Community Festival will host a number of island-wide, in-person events celebrating Singapore's unique and diverse communities. Exploring all the many ways to define what home is, activities include expeditions to outer islands, traditional home cooked meals, visits to religious institutions, learning basic handyman skills, or even rediscovering a familiar neighbourhood with a self-guided tour map. 
During the past pandemic years we have all been challenged with our idea of what is home: expats unable to travel to their home country, no travel, work from home, online schooling, and limited socialising with relatives and friends. Many of us took the opportunity to get to know and rediscover our island home and this is your chance to dive in deeper. These fascinating festival activities create connections with different aspects of our diverse daily lives. If you have ever wondered where Russian expats shop for goods from home, or wanted to hear about the Bahà'i faith, visit a foreign worker dorm facility, indulge in a home cooked South African dinner, wander tide pools at Pulau Hantu, or learn to stitch, sew and save your favourite stuffy … here is the chance.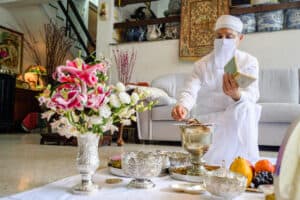 Truly something for everyone, rediscover the place we call home, truly. For schedules, details and sign-ups, please visit: https://mycommunityfestival.sg/