Discovery never ends with the National Heritage Board's latest Sentosa Heritage Trail
The National Heritage Board (NHB) in partnership with Sentosa Development Corporation (SDB) has just released the latest in their series of Singapore Heritage Trail guides. In conjunction with the 50th anniversary celebration of Sentosa as a resort destination, the heritage trail offers a fresh look into the history of the island. The map and companion guide offer 30 heritage sites across the island broken into three thematic trails, each with their own opportunity for discovery. New heritage markers guide visitors with information bolstered by existing Sentosa signage.
Most already familiar with Sentosa will know that in the early 1970's the SDB transformed the island and its military complex background into a destination of leisure and luxury. But hidden amongst the golf course, resort attractions, and beach fronts are clues to the islands deeper history.
Before even setting foot on the island the Kampongs and Barracks route starts on the HarbourFront side with a trail marker introducing visitors to the People of the Straits. The Orang Luat were amongst the earliest settlers of the island once known as Blakang Mati, translated literally from Malay as "Island of Death (from) Behind". Oral origin stories reference tales of piracy and dispute amongst residents and visitors of the island's early days. With the Straits to protect, under the British some of Singapore's earliest coastal defences were positioned from the island; protecting traders from raiders and invaders and keeping water ways open. Barracks and bungalow of the soldiers stationed to protect are explored on this route as well.
The Forts route marches deeper into the history of the island as a strategic defence position for colonial Singapore. Head up the Fort Siloso Skywalk for stunning views of the city centre and the island itself. Explore this preserved coastal Fort to find the tunnels, gun emplacements, searchlights, and casemates. As you wander don't miss the stairs to the Siloso Pier.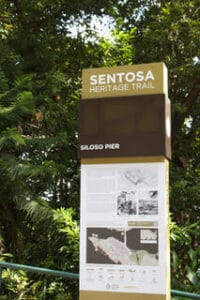 If a trip back to childhood days suits you, the Memories of Sentosa route was made for meandering back to school days. Find the old monorail tracks, find the nature trail, visit the Musical Fountain and reminisce at the Ferry Terminal. A literal walk down memory lane for local Singaporeans.
Sentosa Heritage Trail by the numbers:
50th Sentosa anniversary, including
30 heritage sites with
20 existing Sentosa interpretive signs which support,
10 new Heritage trail markers, crossing
9.5 km of heritage trails broken up into
3 thematic trails with
2 years in the making including
1 newly gazetted national monument, Fort Siloso
What to bring:
Comfortable walking shoes, water bottle, sunscreen, bug spray, hat, umbrella, and a sense of adventure.
The 
Sentosa Heritage Trail's
 companion guide and map (the map is available in four languages from early April) can be downloaded from NHB's heritage portal 
Roots.gov.sg