New digital initiatives to offer exciting new ways to enjoy heritage
NHB working with IMDA to transform the heritage
Visitors to the Asian Civilisations Museum (ACM) will now be able to receive recommendations of artefacts and displays in the galleries that may interest them, so that they are able to home in on these displays at the outset. This will include a Virtual Museum Host that allows visitors to enjoy one-on-one, guided experiences from anywhere in the world.
This has been made possible by the National Heritage Board's (NHB) efforts to reshape the heritage sector in Singapore by increasing the number and quality of digital touchpoints, in order to expand the reach of heritage content. NHB has been working closely with the Infocomm Media Development Authority (IMDA) to facilitate this transformation by tapping on their Open Innovation Platform (OIP) – a virtual crowd-sourcing platform that connects tech companies with organisations with digital needs; and Accreditation@SGD – a programme that supports local-based, innovative and high-performing infocomm media product companies to build an innovative technopreneur ecosystem.
It is no surprise that COVID has disrupted life as we know it and many industries have been hard hit. One such sector is the Arts & Heritage Sector, museums in particular, said NHB's Chief Information Officer Mr Mohamed Hardi. He was speaking to the media at the launch of this shift to digitisation. Due to the numerous restrictions put in place to curb the virus such as the closing of Singapore's borders and the lockdown last year, the crowds at museums slowly trickled down to nothing as more people started to stay at home. "Of course when we're in the middle of a global pandemic, visiting a museum isn't exactly at the front of our minds. As such, the National Heritage Board (NHB) had to reinvent and look at new ways to connect tangible heritage to the masses," said Mr Hardi.
Highlights that have resulted from this collaboration include enhanced guided tours of 360-degree virtual galleries with a Virtual Museum Host; and utilising facial recognition technology for personalised recommendations on artefacts to view in museum galleries.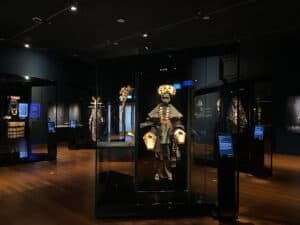 ACM worked with spatial data company Matterport3D and pioneering, IMDA-accredited, Artificial Intelligence (AI) company TAIGER to create detailed 360-degree simulations of ACM's galleries, enhanced with a Virtual Museum Host that utilises humanistic AI capabilities to offer an immersive, personalised online experience of the museum.
Explaining the shift to digitisation, Mr Mohamed Hardi, Chief Information Officer, NHB, said "This is especially pertinent in recent years as exhibitions, programmes, festivals and other content shift online, or are offered as 'phygital' experiences to increase access to and enhance heritage interactions. Digitalisation increases our reach beyond the physical boundaries of our museums and heritage institutions, and also makes our content more meaningful for and approachable to a broader demographic. Working with IMDA and tapping on the wider technology sector has allowed us to scale-up and accelerate these efforts, to allow more members of the public to experience heritage anytime, anywhere."
Using technology and Artificial Intelligence (AI) to expand the reach of heritage is not a novel idea. Back in 2017, NHB initiated a programme called DigiMuse that offered immersive experiences aided by technology such as virtual and augmented reality exhibits. However, with the rise of COVID, there was an urgency to create more of these technology-enabled experiences to appeal to and educate people. Mr Hardi added that NHB is "focusing on local immersion, making sure they have access to all this heritage and information and at the same time, targeting those beyond our borders".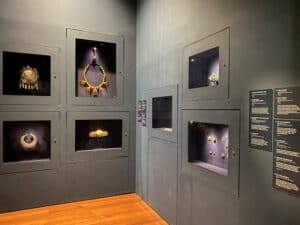 Mr Justin Ang, Assistant Chief Executive, Media, Innovation, Communications & Marketing, IMDA, explained the process from its inception. "IMDA proactively approached NHB sometime in 2020 and helped to identify which part of the museum experience can be digitalised. It has since partnered with Singapore-based AI solutions start-up TAIGER to create a virtual tour of the Materials & Design's Jewellery Gallery at the Asian Civilisations Museum. "We are pleased our national digital innovation programmes, Accreditation@SGD and the Open Innovation Platform, have played an instrumental role in NHB's efforts to digitalise the heritage sector. Through our programmes, IMDA makes innovation more accessible by connecting businesses to a wide ecosystem of tech companies and solutions providers to address their digitalisation needs. I encourage all businesses wanting to innovate and create new opportunities to engage us, and see how our vibrant ecosystem of solution providers can help with their needs," he added.
Mr Jaron Ong, Head of Government Sales at TAIGER says that following this success, they are looking forward to working with the "Malay Heritage Centre and other government agencies who are interested in using such technology to preserve the outlook and turn some of Singapore's historical colonial houses into a virtual environment".
Another promising young company that NHB is working with is Trakomatic which uses facial recognition software as well as video and sensor technology (without infringing on the Personal Data Protection Act) to track a visitor's journey such as which exhibits they have visited and for how long they have stopped in each gallery. This enables the AI system to prompt visitors with personalised recommendations on what they should see next for instance. All visitors have to do is scan a Quick Response (QR) Code when they enter the museum and let the smart technology do the rest to enhance each visitor's experience.
Both TAIGER and Trakomatic are under Accrediation@SG, an IMDA initiative, which Mr Ang explains is "a programme targeting to evaluate the growth of promising new technology companies and we do this by providing third-party assurances on the company's ability to deliver on their products as well as to deliver outcomes and we help to scale their growth by connecting them to both government and private enterprises."
Globally, heritage and cultural institutions are pursuing technology to make artworks and artefacts more experiential, with various digital modes like 360-degree panoramas, live streams, and pre-recorded guided tours with museum curators being introduced over the past year. For the Asian Civilisations Museum (ACM), this has resulted in "virtual twins" of its Materials and Design galleries, enhanced with a Virtual Museum Host that allows visitors to enjoy one-on-one, guided experiences from anywhere in the world.
Trakomatic's project is a result of the sixth challenge that NHB has launched on IMDA's OIP, which has connected over $400,000 worth of prize money with multiple innovative solution providers. Two other companies, Panasonic and Grid Synergy, are also involved in the pilot project to use facial and gesture recognition technology to enhance museum experiences. Other on-going projects born from the OIP challenges include the development of a digital concierge solution with local start up Vouch SG and a virtual tourism solution with Revez Motion. NHB has its 7th innovation call open for proposals as part of OIP's ongoing 12th innovation call, which is open until 28 Jan 2022.
(Those who are interested can access this immersive virtual tour at: https://www.nhb.gov.sg/acm/whats-on/tours/virtual-tour-of-materials-and-design)