The European Film Festival – A Feast For The Senses
With 23 brilliant films lined up over three weeks, the 30th edition of the EFF promises to light up the month of May
Independent film lovers can look forward to a tantalising smorgasbord of the best of contemporary European cinema during almost a month of screening: from 6 May – 23 May this year. That is when the European Film Festival (previously known as European Union Film Festival) returns to The Projector for its landmark 30th edition.
Along with the films, some of the countries will also be showcasing some of their traditional culinary and cultural offerings during the screenings. As this year's featured country, Portugal will be opening the festival with its film Parque Mayer on May 6 along with some excellent gustatory offerings, a fact that should pique the attention of foodies, considering Portugese cuisine is probably Europe's best and also its best-kept secret. Movie goers will be able to buy an F&B package at around $15, separately from the price of the ticket, an excellent idea for a date-night.
Parque Mayer is a comedy-drama which features a battle against censorship, following the aftermath of Lisbon's theatre and entertainment district when the Constitution of the Estado Novo, which restricts creative expression, was approved in 1933. Another screening of the movie will also be held on May 12, and this one's free – complimentary tickets are available online on a first-come-first-serve basis. Presented by the European Union Delegation to Singapore, the film festival has been showcasing the best of contemporary European cinema for decades, introducing a slice of Europe to the Lion City through gripping and delightful visual storytelling. This year, it will be screening 23 films, each showcasing the diversity of languages, history, perspectives and cultures from across the European continent. And while the films showcased may belong to a specific country, "they are all representative of Europe's common cultural heritage," said the organiers.
Speaking to the press at a media preview today, Barbara Plinkert, European Union Ambassador to Singapore noted that "the European Film Festival's landmark 30th edition takes place at an unprecedented moment in time as the Covid 19 pandemic continues. In these truly trying times, many of us have reached out to the arts in its many forms – be it literature, music or films. In the current context, when travel remains a challenge, cinema offers us just the lens we need to experience and understand the many complexities and cultures that shape and define our world and make it what it is," she said.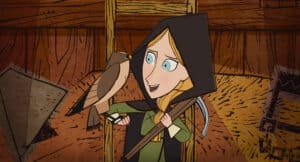 Other films include Ireland's Oscar-nominated animation Wolfwalkers, Belgium's Cannes Film Festival-winning drama Young Ahmed, Norway's Tribeca Film Festival-winning drama Before Snowfall, Germany's biopic Gundermann, and Finland's comedy gold Master Cheng which is slated to close the festival on May 23. The EUFF is also continuing its long-time tradition of showcasing short films by young local filmmakers. This year, it again teams up for the sixth year running with Ngee Ann Polytechnic's School of Film and Media Studies.
The importance of independent films in these fast changing Covid times cannot be understated, considering only 5 per cent of under 25s worldwide have seen an independent film. Independent filmmakers don't only see themselves as challenging the hegemony of Hollywood, they see themselves as changing society. They celebrate those who challenge society, they stand up for the vulnerable, the marginalised, the outsiders, the rebels, the dreamers. Sometimes, independent films can be the catalyst that changes people's lives forever.
Get your tickets at $13.50 (weekdays) and $15 (weekends) from euff.com.sg/tickets.