Have you ever wondered why Hougang is commonly pronounced "Au Kang", quite different from how it is spelt?
Au Kang actually means "at the back of the river" in both Teochew and Hokkien, and is a reference to Sungei Serangoon at the end of Upper Serangoon Road, around which many Teochew-speaking inhabitants settled. In fact, the first documented use of this dialect name was from way back in 1856. "Hougang" is its Mandarin version, introduced in 1980 for the new residential town which was being built at the time. While the old Teochew pronunciation has endured and the Teochew community continues to have a strong presence, much has changed. A strong, diverse mix of other communities and cultures has also developed and continues to accentuate the colourful character of one of Singapore's oldest towns.
From tales of crocodile and pirate attacks, to Singapore's first fast food restaurant in a housing estate, the new Hougang Heritage Trail, consisting of 18 heritage sites with 10 trail markers, uncovers a treasure trove of lesser-known stories of an area steeped in history, over three thematic trail routes: Landmarks of Hougang, Institutions of Service and Architectural Gems. Through historical landmarks, important community institutions, as well as the personal memories and contributions from the community, the trail charts the journey of Hougang from a rural area with vast plantations and fruit orchards to a modern, thriving heartland estate.
(Hougang Tou Mu Kung, 2020. Courtesy of National Heritage Board)
NHB's 20th heritage trail is part of its ongoing efforts to document and promote the distinct histories and social memories of different areas where Singaporeans live, work and play. It also features two National Monuments – the Church of the Nativity of the Blessed Virgin Mary and the Hougang Tou Mu Kung – making it the first heartland trail to do so.
 A neighbourhood of diverse faiths and communities
Many of Hougang's places of faith have origins dating back to the early kampung days. In the 1800s, the steady arrival of Catholic Teochew immigrants from China who came to Singapore eventually led to the establishment of religious institutions such as the Church of the Nativity of the Blessed Mary. St Paul's Church was built in 1936 to serve Anglican Christians living in the Upper Serangoon area.Taoist and Buddhist temples were also established within the vicinity to serve devotees from different clans and dialect groups. The table below summarises the places of worship found along the trail:
(The Church of the Nativity of the Virgin Mary, 2020. Courtesy of National Heritage Board)
Located at the end of Au Kang when it was first built, the Church of the Nativity of the Blessed Virgin Mary is the oldest place of worship in the area. With a growing congregation in the late 1890s, the mission constructed the present-day Neo-Gothic building, complete with pointed arches and ribbed vaults. The church continues to provide religious services in Teochew today. In 2005, the church was gazetted as a National Monument.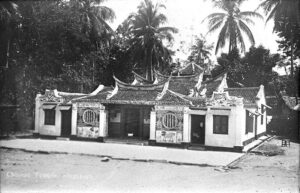 (Hougang Tou Mu Kung, prior to renovations, c. early 1900s. Courtesy of National Archives of Singapore)
Hougang Tou Mu Kung began as a shrine in Lim Loh village in 1902, and is the oldest temple in Singapore dedicated to the Nine Emperor Gods. The Nine Emperor Gods were popularly worshipped in Malaya, especially among Chinese labourers working in tin mines, as they were believed to be efficacious in warding off epidemics and diseases. The temple was gazetted as a National Monument on 14 January 2005, and remains well known for its grand celebrations during the annual Nine Emperor Gods festival.
(Masjid Haji Yusoff, 2020. Courtesy of National Heritage Board)
Masjid Haji Yusoff was built in 1921 on land donated by Gujarati merchant and philanthropist Ahmad Mohamed Salleh Angullia (1874-1939), and is the oldest mosque in Hougang. It became such a prominent landmark that the Chinese name for the section of the road near the mosque was Sembahyang Tng (a combination of the Malay word for "prayers" and the Hokkien word for "pavilion" respectively). The mosque now serves as a hub for the Malay-Muslim community living in the Hougang and Upper Serangoon areas.
In addition to its numerous sites of worship, Hougang is also home to a number of institutions established to serve the community. These institutions played important roles in providing medical care, education and social support, and advancing community bonding. Most were founded before the area was transformed into a modern housing town, and these include the Ramakrishna Mission along Bartley Road, and various Chinese clan associations.
4. The Ramakrishna Mission in Singapore bought the land at Bartley Road in 1941 and built a boys' home to house destitute boys affected by the war. It also built a temple on its grounds in 1954 for the devotees of Sri Ramakrishna. The blue and cream building is modelled after the mission's main temple in West Bengal and integrates architectural features and motifs from different religions, such as Buddhism and Islam. This mix of cultural features reflects the mission's belief that all religions lead to the same goal of enlightenment.
5. Established in 1929 at Upper Circular Road, which was known as a Teochew enclave, Phoh Kiu Siang T'ng started by providing funeral services for its members and dispensing medicine to the poor. In 1953, the shantang(siang t'ng) moved to Simon Lane due to the fact that Au Kangthen had a large concentration of Teochews. Today, the shantang operates a free clinic.
6. The Serangoon Khiung Jai Co-Villagers Association is a clan association that represented and served the Hainanese enclave living in Lorong Ah Soo. It played an important role in nurturing Hainanese culture, establishing the Guang Yi troupe which was helmed by well-known Hainanese opera stars. The association continues to be active in fostering ties among the Hainanese in Singapore, and  set up a network in 1997 with seven other Hainanese associations in Singapore to coordinate their programmes.
Developing into a modern housing town
The Hougang Heritage Trail also traces the transformation from rural Au Kang to a new housing town with modern schools and bustling markets. Unique architectural features, including HDB blocks with curved columns and the iconic Block 316 adorned with a sweeping rainbow mural, are highlighted. Traditional businesses that have served generations of residents and continue to flourish include Ah Seah Teochew Porridge, Ho Tit Coffee Powder Factory, Cheong Ann Watch Maker, Serangoon Lian Hin Tailor, and Chinese antique furniture and accessories store, Just Anthony.
(Block 316 with its iconic rainbow mural painted on its façade at Hougang Avenue 7, 2020 Courtesy of National Heritage Board)
The first town centre at Hougang Street 21 was designed with elements of colonial architecture that referenced Singapore's pre-war bungalows. These included low-rise buildings with rounded arches, multi-paned windows and louvres. The second town centre located at Hougang Central was distinguished by a pair of blocks with stepped pitched-roof buildings, which hark back to Hougang's rural past.
(Neo Kian Guan Confectionery and Cakes, 2020. Courtesy of National Heritage Board)
Opened in 1947 along Upper Serangoon Road, Cheong Ann Watch Maker specialises in clocks and gramophones and is now run by the second and third generations of a Hokkien family. In the 1980s, as Cheong Ann saw more expatriate customers who were sourcing collectibles, the business evolved from providing mainly repair services to selling antiques and collectibles. The family also expanded its network from Singapore to Malaysia in its efforts to acquire vintage timepieces.
Mr Alvin Tan, Deputy Chief Executive (Policy & Community), National Heritage Board (NHB) said: "Through our new Hougang Heritage Trail and our other trails, we hope to encourage Singaporeans to explore their own backyards during this period of travel restrictions, and rediscover local heritage delights. In doing so, we hope that Singaporeans will come away with a renewed appreciation of what Singapore has to offer in terms of unique heritage experiences with a strong local appeal."
(Tan Moh Hong Reptile Skin and Crocodile Farm,1986. Courtesy of National Archives of Singapore)
The Hougang Heritage Trail's companion guide and map are available in four languages, and can be downloaded from NHB's heritage portal, Roots.sg. Printed copies of the guide will also be available at NHB museums, as well as the Aljunied-Hougang Town Council (Hougang Office), Hougang Community Club, Punggol Community Club, Paya Lebar Kovan Community Club, The Serangoon Community Club, Aljunied Community Centre, Eunos Community Club and Kaki Bukit Community Centre.
(Featured image: Block 25 along Upper Serangoon Road with an eye-catching mural of the sky painted on its façade, 2020, courtesy of National Heritage Board_