Tata Consultancy Services Sets The Pace In A Fast-changing World
Girish Ramachandran as the able head of TCS (APAC) is the man spear-heading the first-of-its kind initiative to support Singapore's post Covid recovery and future readiness
In today's technologically driven world, it is a truth universally acknowledged that an organisation in possession of a good fortune, must be in want of an Indian engineer, to paraphrase Jane Austen's famous opening lines in her celebrated novel Pride & Prejudice.
Girish Ramachandran, the Singapore-based President of Tata Consultancy Services (TCS) Asia Pacific is symbolic of that want. The youthful 49-year old head of one of the world's leading IT services companies, joins a growing list of Indians leading the world's most powerful companies, a list led by IT behemoth Google's CEO Sundar Pichai with whom Girish shares many uncanny similarities.
Both are roughly the same age and began life as small-town boys from South India with humble, middle-class backgrounds. Both graduated as engineers from well-respected Indian engineering colleges. Both eschew the trappings of their high corporate roles to lead simple, low-key lives and both belong to the Tam-Bram (Tamil Brahmin) community, a community synonymous with high educational achievement and whose traditional focus on "simple living, high thinking" has led to a disproportionate but well-deserved representation in key strategic posts both in the Indian and western corporate world.
Under his watch, TCS has garnered a number of firsts in the industry. Within two years of being posted to Singapore as head of TCS, Girish sharpened the focus on Elder Care in the SMU-TCS i-City Lab at Singapore Management University. It is now the first data analytics lab in a Singapore university that focuses on Singapore's care homes. The vision for this joint initiative between SMU and TCS is to build intelligent, inclusive and integrative societies through multidisciplinary research and development efforts. It is linked to hundreds of care homes in the island state and TCS has injected S$5 million into it over the last few years.
And earlier this month (June 2020), responding agilely to the depredations of the Corona Pandemic on the regional economy, TCS announced the launch of a Digital Acceleration Centre (DAC) to support Singapore's Covid-19 recovery and future readiness. It is the first such initiative by any corporation in the post-Covid scenario.
Aligned with Singapore's Smart Nation pillars, the DAC aims to build a robust, future-ready workforce to power the country's economic recovery from the global pandemic. It is supported by the Singapore Economic Development Board (EDB). As part of this initiative, TCS' investment will include providing up to 100 traineeship opportunities for local polytechnic and university graduates through Workforce Singapore's SGUnited Traineeships Programme, to support the DAC. The centre will provide trainees with an immersive, real-world learning experience, as well as the opportunity to work on live projects with TCS' diverse range of clients.
The launch of the DAC supplements existing initiatives by TCS in collaboration with the Infocomm Media Development Authority, such as the Company-Led Training program and TechSkills Accelerator Mid-Career Advance, to equip professionals with competencies to excel in the technology industry.
The nine-month Traineeships programme consists of foundational, specialised, and hands-on training courses for intensive skill building through various formats including webinars, assessments, and hackathons. It focuses on nine key aspects of cutting-edge technology: cloud adoption, UI/UX, legacy modernization, cyber security, DevOps, digital workplace, artificial/ augmented intelligence, Internet of Things, and digital interfaces – critical focus areas for Singapore's Smart Nation ambitions. On completing the programme, well-performing trainees will be considered for open opportunities at TCS. The DAC will continue to provide specialised skill enhancements for these trainees even after they are hired, constantly raising the digital capabilities of the workforce.
TCS' initiative has received fulsome praise from stakeholders such as the senior most official of the EDB, Singapore's leading statutory board for the economy: "The centre is testament to TCS' continued confidence and commitment in our partnership and to Singapore. We are also especially heartened that TCS is supporting our young graduates with traineeship opportunities during this challenging time and equipping them with skills for the future," said Chng Kai Fong, Managing Director, EDB. He noted that it would give Singapore's university and polytechnic graduates "opportunities to build desirable digital skills and enable businesses to adapt to the new operating environment amid the pandemic."
India Se Media had a series of online and phone interviews with Girish Ramachandran to get his perspective of working and living in Singapore, where he was posted five years ago after a stint of six years in TCS' global headquarters in Mumbai.
Prior to that he was based in the Netherlands where he spent nine years as Head of TCS Europe where he developed strong client relationships, with disciplined focus on operations and execution, enabling TCS to achieve record growth in revenues and margins. Girsh then headed TCS' Middle East, Africa and the Mediterranean region after which he was Corporate Vice-President in the CEO's office in Mumbai where he rolled out strategic global initiatives, setting the tone for TCS' rapid growth.
Girish also sits on the board of the Global Reporting Initiative (GRI) based in Amsterdam, a pioneer in global sustainability reporting. He is also a member of the CII International Council and serves on the international advisory board of Nyenrode University in the Netherlands.
In addition to his many corporate responsibilities, Girish is deeply involved in social service endeavours and has received several awards. These include the Frans Bannick Cocq Medal from the Mayor of Amsterdam in recognition of his meritorious service to the city of Amsterdam. He was appointed Business Champion for New Colombo Plan by the Australian Government and in 2018 he was recognised with the "Leading CEO" award by the Singapore Human Resource Institute.
Far removed from the prevailing stereotype of the macho-genius tech CEO, Girish has a disarmingly calm presence, and a refreshingly down-to-earth lifestyle. A keen runner, he was instrumental in setting up the #Fit4Life and #Purpose4Life across TCS globally when he was in the CEO's office in Mumbai. He is the #Fit4Life and #Purpose4Life Champion within TCS APAC, and encourages the TCS APAC community to take charge of their health so they can lead better lives. "I lead by example by taking part as a marathon runner in most, if not all of the TCS sponsored marathons in the region," he said.
His team was also recently awarded the Best in Contingent Display (Travelling Dance) prize for the Chingay Awards 2020, despite this being their maiden attempt. In what could be a metaphor for Girish's own attitude to his work, the team's dance "left a lasting impression. The judges were in awe as they could feel the passion and enthusiasm of your performers," said the citation.
In talking to Girish, one notices there is none of the abrasive egotism that seems to be the prevailing culture in many tech companies and which typify so many tech leaders such as Jeff Bezoz, Bill Gates and even the late tech icon Steve Jobs.
Instead one notices the ease with which he talks about his soft skills, skills not immediately associated with a high-flying technocrat. One senses a deep pride in his role as a father to his 12-year old son whom he goes cycling with regularly and for whom his wife Rupa gave up a potentially rewarding career as an Environment Management specialist (she has a degree in it from the Netherlands) so that she could focus on his upbringing.
"We don't keep a domestic helper. My wife, who was trained as an environmental specialist in the Netherlands, doesn't work because we didn't want someone else to be in charge of our child. We don't have house help. My wife takes care of the home and our son herself. We get a helper only on a weekly basis just to clean up the house. We wanted our son to be brought up with our values, not with somebody else's values. We would also like him to be independent,'' said Girish. Their son Akshaj, an only child, studies in United World College of South-East Asia.
Here are some excerpts of the online and phone interviews:
India Se Media: Tell us a little bit about yourself and your growing up years.
Girish Ramachandran: I'm from Kerala but a Tamilian (Palghat Iyer). I was born and brought up in Calicut Kerala. I did my engineering studies at the PSG College of Technology in Coimbatore and then an MBA at the Jamnalal Bajaj Institute of Management Studies in Mumbai.
I've been in TCS for 26 years now. I was the head of TCS in Europe for around 10 years. I lived in Netherlands (Amsterdam) where I set up the European headquarters in the Netherlands and then when our son was born, we thought it would be good to bring up our son with grandparents, so we decided to go back to India. For six years we lived in Mumbai.
My wife is an environmentalist, but she isn't working as she wanted to take care of our son. She decided she would stay at home and devote herself to bringing up our son. She studied environmental management in Holland and then we moved to India. We were in India for around six years and then this particular opportunity came up.
Singapore has been a great place to live and work in. No problem at all in settling in. Workwise, it is a fairly large market for us. About 10 per cent of TCS' revenue comes from the Asia-Pacific. Europe is around 15 per cent and US is 50 per cent. But the difference is big because most of the European business is delivered out of India. Whereas in Asia-Pac it's delivered out of the region itself.
India Se Media: So, you're creating quite a lot of jobs here in the region?
Girish Ramachandran: Correct. For example, for our Philippine centre we have around 5000 people. In China we have 4000 people. In Singapore itself we have more than 1500 people. Altogether in the Asia-Pacific we have more than 40,000 people.
India Se Media: How does this Corona Virus pandemic and the problems facing China affect TCS?
Girish Ramachandran: From our point of view we have only a very small proportion of our APAC business in China – only 10 percent of our regional business. And most of the customers we work with are global MNCs.
DAC is only for Singaporeans. We have a fairly large footprint in Singapore – we have a delivery centre in Changi from where we deliver services for our regional customers. So, more and more we are localizing in this market and when we localize it is important that we bring in local expertise as well.
My own view is that in Singapore, especially after Covid, there is a heavy emphasis on digitalization, so it is very important to bring in the tools for this.
India Se Media: Is the DAC the first of its kind post Covid?
Girish Ramachandran: Yes absolutely. Post Covid it is the first of its kind. We obviously want to bring the best of what we see in digitisation to Singapore and not only train the local workforce but accelerate them to take care of the opportunities post-Covid.
India Se Media: So this pilot project you're setting up, is it a template for other countries?
Girish Ramachandran: That's correct.
India Se Media: How do you recruit here? In India they go to all the IIT and other engineering campuses – the second tier and third tier colleges too. In fact, there's a saying that if you can't get into IIT or BIT then you go to MIT.
Girish Ramachandran: Well Singapore obviously doesn't have that kind of huge pool where we can recruit 30,000 people from the campuses but having said that, we also have an attrition rate in India that we have to "backfill." But when we take people directly from campuses, usually they tend to stay back much longer. Because for them they get instilled with the Tata culture, to build up the Trust factor. It's much easier to instill this when they come directly from the campuses. That is what we are trying to do here.
India Se Media: Eventually are you thinking of setting up an institution like a Tata College of Technology?
Girish Ramachandran: We don't have such a plan. But we are doing one or two (innovative) things here. We have aset up at SMU an I-City Lab (TCS-SMU icity lab) looking at healthcare for the aged community. We've created this lab and already funded about S$5million for this over the last two years. We use technology to see how we can help. Our lab is connected to hundreds of care homes all over Singapore. Our other big investment that we have made in Singapore is the Experience Centre in Changi.
The Experience Centre shows you how to bring digitization to life. We put in all the interesting case studies that we work with around the world. We can demonstrate how to bring digitization to a customer in the Airline industry, a customer in the Media industry, and so on. The idea is to see whether we can bring India and Silicon Valley closer to Singapore.
India Se Media: There are many critics who say that most of the Indian engineers go into software. Nobody or very few go into manufacturing and that's one of the reasons (India) has lost out to China. What do you have to say about this? All the top students want to go into tech/IT companies and then when they are told to go into manufacturing, they aren't motivated. For them tech is only software.
Girish Ramachandran: Look if you go by pure data, India produces 1.2 million software engineers every year and only 25 per cent of them join the tech industry. But the number of students graduating from campuses is much, much more. So, it is not fair to say that everybody gets into software.
India Se Media: But the brightest seem to?
Girish Ramachandran: Which is right. But if you look at it, even manufacturing is all about digitization. Every core industry if you look at it, is all about digitization and that is why technology is going to be very helpful for any country's growth. Now the reason why India is not coming up in manufacturing is for a variety of other reasons right? We know it…for land, labour, politics and other issues. It's nothing to do with engineers not going there. There is so much technology in engineering today that it can be a beautiful amalgamation of technology and manufacturing. So, I believe that the Government has to put the right eco-system in place. India doesn't have that right now. Even if you say you want to build a high-tech centre or a health care centre you need to have all the ancilliary units in place, right? So, India has to focus on that.
India Se Media: Could you tell us how you will be conducting the recruitment for the 9-month traineeship in your newly set up Digital Acceleration Centre (DAC)? What are the qualifications you have set? The criteria? And from which institutions will they be drawn?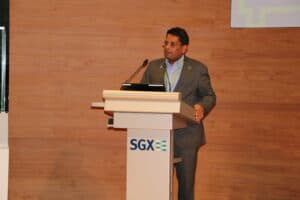 Girish Ramachandran: TCS is collaborating with Workforce Singapore (WSG) to participate in the SG United Traineeship Programme and offer traineeship for 9-months to graduates from Universities & Polytechnics across Singapore.
Additionally, we will be collaborating with local universities, private colleges & polytechnic institutions and participate in Career Fairs and Online Webinars to engage students to apply and take benefit from the initiative.
The candidate will go through an online aptitude assessment and technical interviews to qualify for the positions. We will also be conducting several webinars with selected candidates to engage and prepare them for the opportunity.
The candidates need to have graduated in 2019 or in 2020 to be eligible for the programme. Students who completed National Service in 2019-20 are also eligible to apply.
Ideally, the candidate will possess some understanding or knowledge of programming languages. The candidate would need to have good communication skills and be keen to explore careers in the IT industry.
Successful candidates will be groomed in cloud, IT infrastructure technologies, UI/UX Development and design and software development.
India Se Media: TCS has invested/will be investing S$3million in this venture. Do you have plans for further spending on this?
Girish Ramachandran: TCS is investing about S$3million over the next 12 months in hiring and training initiatives aimed at supporting Singapore's overall Smart Nation efforts.
This investment includes national initiatives such as Company-Led Training and Mid-Career Advance under the Infocomm Media Development Authority's TechSkills Accelerator in addition to the trainees that will be onboarded as part of the DAC.
The Digital Readiness Blueprint, under Singapore's Smart Nation umbrella, also outlines Singapore's commitment in ensuring that everyone can experience the benefits of technology, from providing widespread access to technology, driving digital literacy, to hardcoding digital inclusion into the design of all processes and services.
India Se Media: Will you also take in working professionals for this 9-month course if your campus recruitment falls short or will they all be referred by the EDB?
Girish Ramachandran: The WSG SGUnited Traineeship Programme is designed to support fresh graduates during the post COVID-19 period of uncertainty and economic instability.
There are many other programmes in place, designed and managed by the Singapore government, that supports working professionals at various stages of their career, whether they are fresh graduates, young employees, mid-career professionals and even senior management. The emphasis on life-long learning, upskilling and digital reskilling ensures a workforce that is digitally savvy, resilient and adaptable in times of transformation.
TCS is proud to be a participating organization in most of these initiatives.
India Se Media: Is there any age limit or are you open to older trainees in their 40s and 50s?
Girish Ramachandran: This traineeship is open to all fresh graduates who meet the criteria, including mature-age students.
However, for older individuals who are considering a mid-career switch, TCS is also supporting the Infocomm Media Development Authority's TechSkills Accelerator (TeSA) Mid-Career Advance to provide opportunities for Singapore Citizens aged 40 and above to be reskilled or upskilled while holding a tech-related job.
Over the course of the next 12 months, TCS will invest an estimated SG$3 million in hiring and training initiatives aimed at supporting Singapore's overall Smart Nation efforts.