The recent coronavirus outbreak has deterred people from donating blood resulting in depletion of stocks. A blood donation drive is being organised at Changi Airport Recreation Club (CARC) on Friday, March 13, 2020, from 10 am to 4 pm.
Donors have been advised to have plenty of rich in iron foods and Vitamin C. Those who have travelled in the last four months or are on medication are required to call the Singapore Red Cross on 62200183 to verify their eligibility.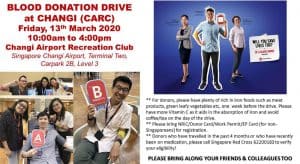 Recently the Singapore Redd Cross appealed to donors to come forward as national stocks have been running low. It has noted that in February that stocks for the common blood types A+, B+, O+ and AB+ were at critical levels and donations were "urgently" needed.