A Tribute To The Inner Strength Of Women
Sapna Dabade's Art Photography Exhibition inspired by Raja Ravi Varma's paintings raises awareness of Cerebral Palsy
Fine art photographs are created as carefully as paintings. They're often difficult to create in one session and they stand out because of their details, compositions, and meanings.
No matter how unusual or simple the subject is, fine art photographs will make you feel things because they are visions, not merely snap-shots.
Perhaps that's why I was so moved by Sapna Dabade's exhibition of photographs based on Raja Ravi Varma's paintings at the Arts House yesterday (Saturday, August 30) which I had the honour of inaugurating as her Guest-of-Honour along with Lalitha, Principal of the Temple of Fine Arts.
Varma the artist has always reminded me of my mother and all the simple Gorkha women – aunts, grandaunts and grandmothers – who were the real bulwark of my mother's clan, since half the men were away in the Western and, later, the Eastern Fronts.
Less devout than my other maternal relatives but a stickler for arcane, everyday rituals, my mother followed the traditions and mores of her Nepali Hindu/proto Hindu (read shamanism for want of a better word) background, which meant more of spirituality and less of the religiosity.
Her morning obeisance to the Creator had such a light and enchanting touch that it has left an indelible imprint on my mind. Plucking the best flowers and whatever fruit was in season, she would place them on a silver plate on her altar, light a lamp and sing, in the pure, lilting voice of the naturally gifted, a devotional song straight out of one of the Bollywood films of the era. "Tumhi ho Mata Pita Tumhi Ho" (You are my Mother and my Father) was her favourite. It was like her morning Riyaz. I would happily chime in, attracted by the catchy tune. Among the idols of deities on her altar was a framed picture of Lord Krishna which I recognised achingly, many years later after she was gone, as a print of Raja Ravi Varma's famous painting of the eternal hero of the Mahabharata.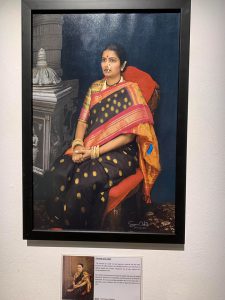 Perhaps that is why I felt an instinctive connection with Sapna's art photography and the artist herself. Aptly titled "Raja Ravi Varma's Painting Through Lens" the photographs are uncannily like his paintings right down to the last detail.
But then, one notices there is something more in Sapna's art than in Varma's. They have more heft, more depth, more diversity. I venture to say the subjects have more dimensions than the famous creator of the originals. They may all be women but they are not merely sensuous, vacuous, artfully beautified beings. Sapna's subjects are drawn from ordinary, everyday women like you and me – with all their faults, their pimples, their freckles, their crow's feet (she even portrays 70-year old grandmothers) and above all, their strengths, their compassion and the gentle patina of years of mothering, caring and nurturing.
Unlike Raja Ravi Varma's subjects, none of Sapna's subjects were chosen for their beauty and sensuous seductiveness. There were no make-up artists, stylists or expensive props. All the subjects were drawn from her network of friends and family dressed themselves and helped each other.
Such was the fervour she generated in her friends and helpers it was summed up poignantly by the MC as she announced the opening of the event: "Over these past 18 months, Sapna's dream became our dream…", she said.
Sapna the photographer and architect of the dreams relied only on clever light and shade and her imagination. Incredibly, using only Singapore scenes as her background landscapes, she has managed to recreate the look and feel of a 19th century India.
Long after I had left the exhibition hall, I kept thinking of those photographs and the vision of the artist. Where does she get the energy and imagination to create such memorable works, I kept marvelling.
And then I had my Road to Damascus moment, my epiphany. It suddenly dawned on me like it did on St Paul, that Sapna's remarkable vision comes from a natural talent that is powerfully charged by the incomparably deep compassion that only the mother of a very special kind of child is blessed with. Sweet and happy little Shaunak 11, was born with cerebral palsy and is his mother's deepest inspiration.