As Singapore restructures and promotes alternate career paths India Se Media was delighted to meet with a young artist building our "SG Passion Made Possible" brand on the international stage.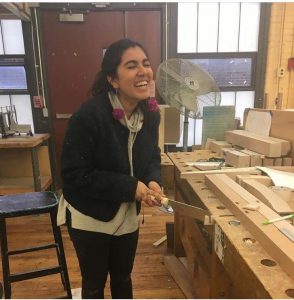 Anya Gupta is a young Singaporean designer based in the US who has a Bachelor of Fine Arts (Furniture Design) from the Rhode Island School of Design (RISD).
Born in Indonesia she has lived in six countries: Singapore, Malaysia, Mexico, Turkey and the US. Her work aims to explore her cultural experiences in a historical, political and occasionally humorous ways. She believes, furniture and design play a crucial role in not only the continuity of tradition and culture, but its evolution.
Her pieces are individually designed and hand made. She is skilled and trained in a variety of mediums from metal smithing to woodworking to weaving on a loom. Her webpage: www.anyaguptafurniture.com – shows her extensive range of work and reflects her Asian heritage.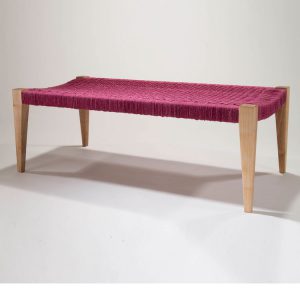 Anya has displayed her work internationally at the Salone del Mobile, Milan (2018) as well as in the US at Fine Furnishings Show, RI (2017), Gelman Gallery, Providence (2018) and RISD Senior Furniture Show (2019).
Over coffee at Anchor Point, Anya explains how her works reflect her experience and Third Culture Kid (TCK) background. Browsing through her webpage, one is impressed by her wide range of work based on different materials and styles: digitally printed bubble wrap quilts, a cabinet reflecting Mexican talavera patterns, an Indian charpai as well as art pieces celebrating Turkish tulips, a hand woven rug inspired by south Asian balconies many many more.
She explains that as part of her diploma project she looked at airport seating as part of exploring spaces and objects within the realm of the temporary, the transitory and the in between. She strives to create objects that are both physically and emotionally comfortable that provide a sense of belonging in this globalized world.
Reflecting her commitment to sustainability and using recycling materials she has done an internship with Kokrobitey Institute, Ghana making furniture from recycled denim scrap weavings. She has also done internships in Singapore (exhibition design for National Museum of Singapore and the Indian Heritage Museum) and Istanbul (Turkey).
Going forward she is looking to continue to exhibit at International Furniture shows including International Contemporary Furniture Fair (ICFF) NYC, Salon del Mobile, Milan and IMM Cologne, with emphasis on Singapore art and design. After all, Singapore has been designated an UNESCO design city.
As this country gears up to celebrate its National Day, Anya too hopes to make a mark on the international stage. This will be certainly a matter of great pride for not just the young designer but her country as well.
Anya can be contacted at gupta12038@gmail.com for any inquires about her work.