Greece, like wisdom, came to me late in life but, unlike cruelly elusive profundity, that magical land in the turquoise Aegean is mercifully within reach when I long for it.
Because that is what I feel for Greece now that I've tasted a bit of its legendary attractions. Within my first hour in Athens and one awe-struck glance from my sitting room window at the sacred Parthenon and I was hooked. Now, barely two months after my return, I am already planning my next trip.
While I have been on many memorable trips to various parts of Europe nothing comes close to the extraordinary culture and beauty of Greece and its magical islands. Perhaps my enjoyment was heightened by the fact that I was travelling with two like-minded companions – my older sister, who's a Greek history buff, and my musician daughter who even chose a concert pianist's heritage home as our B&B in the hope of attending a classical soiree or two with her! If only Maria Callas had still been around!
While we didn't get to enjoy the Athens Symphony Orchestra live, we did get to walk down Adrianou Street a few times to the Theatre of Dionysius where the great dramatists of the 5th century BC competed for prizes with their plays. To stand on the spot where Sophocles, Aeschylus and Euripides put themselves to the test more than 2,500 years ago is as awe-inspiring as climbing the Acropolis and standing in mute respect and wonder before the 4,000 year-old Parthenon.
In Greece as in India, culture, tradition and heritage are counted not in centuries but in millenia and people carry their heritage proudly like all ancient peoples but without any hubris. Indeed, Greece's heroic and noble history is writ large everywhere, cheek-by-jowl seamlessly with all the brash symbols of the 21st century. We were fortunate to be staying within a 10-minute walk to the immortal Acropolis and thus able to immerse ourselves in the timeless aura of the place.
We had chosen an excellent time – early November just before Diwali – to visit Greece. The tourist crowds had thinned and the summer sun had mellowed to a warm, balmy caress with only an invigorating nip in the air in the early mornings and late evenings. Nothing that a chilled glass or two of Assyrtiko – also described as Chablis on steroids – couldn't remedy.
Santorini – that magical isle in the Southern Aegean – is where this classic Greek wine was first developed a millenia ago and is at its finest and possibly least expensive – € 4 for a bottle! It felt almost sacrilegeous to pay so little for such a fine wine. Then again, everything and everyone are at their finest in this enchanted jewel of the Aegean.
But more about that later. Our first few days were spent in the sprawling, lively capital Athens, walking up and down its undulating streets from Plaka to Monastiraki to Omonia and Syntagma Square where we saw a general strike.
Day or night Monistiraki always has something interesting to offer: food drink shopping, ancient ruins, Acropolis views and colourful people from all around the world, including Bangladeshi vendors selling fruits and nuts in thick Greek and Bengali-accented English.
Later, for the experience, we chose to stay in a graffiti-rich but uber-modern flat in a more hectic part of the city on a street called Marathonos – the allure of a name right out of the glorious history of Sparta being too much for us to resist. Imagine living on the very same path on which the brave Spartan warrior Pheidippides ran non-stop for 24.8 miles from the Spartan battlefield to the Parthenon to carry with his last breath the historic news of Greece's victory over the Persians!
It was a little further (about 15 minutes more) from our centre of gravity – the Acropolis – than our beautiful Regency apartment in Plaka but the full-face view of the Parthenon on the hill made it worth every minute.
My favourite shopping mecca was in gritty Athinas Street. There's no better place if you're looking for authentic Grecian herbs and foods to take back home. You can get lost in its amazing shops selling a variety of herbs, nuts, raisins and delicacies at prices to rival the bazaars of Delhi!
Sacks of lavender from the mountains of Crete and other islands, pistachios from Aegina, walnuts and delicious Kouriebethes cookies from Sparta, Kalamata olives from Peloponnese and all manner of Grecian goodies.
And while Athens is full of vibrant nightspots and tavernas, we could have happily spent all our evenings in Anafiotika (in the Plaka area) just below the Acropolis. The hill is lined with tavernas and cafes on the steps which come alight with people, lamps, chatter and great food against what must be the most awesome backdrop in Europe – the magnificently lit Parthenon, the universal symbol of classical civilisation at its finest. That's where we celebrated my sister's birthday on our first day in Greece.
With a culture that has, for millennia, set the standards for bravery and noble behaviour it stands to reason why Greek islanders were at the frontline of the refugee crisis and are going to be nominated for the Nobel Prize. Of the 900,000 refugees who entered Europe last year most were received –scared, soaked and travelling in rickety boats – by those who live on the Greek islands in the Aegean, such as fishermen, teachers, policemen and retirees on Lesbos, Kos, Chíos, Samos, Rhodes and Leros.
My glimpse of the doughty islanders' noble character came from a comfortable seat in a spiffy hydrofoil that took us back to Athens from the serene and beautiful island of Aegina. Famed for its pistachios, olives and seafood Aegina is a haven away from the crowded party islands of Mykonos and Ios and has wonderful tavernas and restful beaches. Its most famous heritage site is the 4,000 year-old Temple of Aphaia atop a peak where the very air seems sanctified.
On the boat I watched some islanders tenderly care for a woman lying on a stretcher, frequently caressing her head and adjusting her blanket. Upon enquiring I was told they were not her relatives but workers at the quay who had volunteered to take her to Athens as the island did not have a hospital. That gesture now strikes me as emblematic of Greeks.
Faced by the stunning vastness of the ocean and in the safe fastness of a modern ship I thought in awe of the legendary bravery it must have taken for Odysseus to navigate his way home through perilous seas and enemies in a far flimsier boat. Not even sirens with supernatural powers could lure him away from his beloved Ithaca. He was always wanting to return home.
And it's not hard to see why. The Greek islands are the stuff of dreams and intense longing. And reigning above them all is breath-taking Santorini. While Athens and Aegina were amazing, Santorini was sheer heaven.
We stayed in a charming little cave house in Oia, a tiny village on the island's Northern tip with the best views in Santorini. Sipping wine on our patio we seemed to be floating above a lapis lazuli sea of a hue confined to artists' palettes, seemingly impossible in reality.
It was a surreal and intensely spiritual experience to wake up each dawn and watch the sun rise slowly over the white houses and blue domes perched on towering seaside cliffs and in the evenings to see the village and vast horizon ablaze in the colours of a Titian painting. For five glorious days we felt like we were living inside a picture post-card and for those five days we felt like goddesses, perhaps because the scantily-clad and stoned hordes of beach babes and bums had disappeared and we were, after all, good customers!
Perhaps because our handsome Albanian housekeeper and porter Rifat – a household name in the village – had taken a shine to us, or because they saw our smiling visages in their alleys, pubs, tavernas and beaches so often, the native Santorinians – stray cats, dogs and people – adopted us.
A handsome cat and a big old alsation dropped by on the first morning and never left, our feline friend cautiously keeping a wary distance from the dog who followed my daughter everywhere, even sleeping at the foot of her bed. Sanorinians are animal lovers – even stray dogs have collars paid by the village committees.
A mythical ancient island that endured one of the largest volcanic eruptions in history, Santorini feels like no other place on earth.
Here, everything is brighter, whiter and bluer. From our cave house a staircase corkscrews 200 steps down to Amoudi Bay, where you can swim to the church of St. Nikolas Peramataris, on a black rock only 40 feet away. Back in Oia's town center, we often congregated in the courtyard at Roka for tasty mezes – fried eggplant with tomato; apple and feta pie; fava purée and glasses of Assyrtiko. You might even venture to the island's wineries for a low-tasting of its famous Vinsanto or sail, like we did, to Nea Kameni, about two miles away from Oia, where you can hike, snorkel, and float in the caldera.
This jewel isn't only just a tourist paradise, it can be the most sublimely peaceful place to rejuvenate – the delicously fresh food, pure air, salubrious weather and stupendous beauty being the elixir we needed to keep us on a perpetual high.
For seekers of romance, sigh no more. Santorini is the kind of place where it is possible even for the most jaded to believe in eternal love.
Indeed, Greece, at the crossroads of Europe, is a land of hope. In Athens, quite by chance we discovered a large community of Bangladeshi Hindus with their own Kali temple. Heady from our first visit to the Acropolis and a good dinner laced with wine, we pressed some euros into the hand of an elderly flower seller who hadn't made a sale that evening. He was so delighted at his good fortune and at meeting Bengali-speaking tourists that he invited us to see his temple and meet his community's president.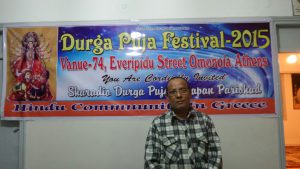 Not willing to disappoint our flower seller, we followed him gingerly through an unlit, gritty part of Omonia to an old building in a lane filled with Chinese sundry goods shops, constantly starting at the shadows that seemed to get menacingly closer. At one point, lagging behind my sure-footed daughter and sister, I screamed when a swarthy, leather-jacketed man on a motorcycle emerged from a side lane and growled in mocking reply to my nervous mumbles "yes, this is a dangerous place". Chilled, I shouted out something placatingly in Bengali as if waving garlic in front of a vampire! It was a relief to reach the temple gate which, wonder of wonders, was guarded by a kindly looking watchman who turned out to be a Pakistani Punjabi who was touched to hear my daughter and me speak to him in Hindi and broken Punjabi. It was like he was meeting one of his own when he learnt that my father-in-law's birthplace was Naushera, his hometown.
The president of the 1,300 strong Bengali Hindu community turned out to be a weather-beaten, soft-spoken 52-year-old man named Satya Bijay Das who told us he had been living in Greece for the last 17 years. He said he worked in a restaurant.
Aliens in a foreign land, Indian, Nepali and Bangladeshi Hindus and Pakistani Muslims in Greece share common bonds of loneliness, dispossession, language, food and fear, living as they do on the margins of the economy. Most are simple people seeking only a better life for themselves and their families. Some like an Afghan cook we met in Santorini are ready to move on, some like our flower-seller friend endure and strike it lucky. He was going to Nice on the French Riviera soon, he told us, to join his son who had won a scholarship to do his Master's in engineering there.
Toiling alone for 30 years he had been able to send both his children to university in Calcutta. "Greece has been good to me," he said when asked why he had stayed on for so long.
We had to agree that it had been good to us too.