Mark Twain may have been cheeky about the cauliflower when he said, "A cauliflower is nothing but a cabbage with a college education," but the fact is that this vegetable is today being feted for its low calorific and high nutritive values.
Cauliflowers have been grown for several centuries and its ancestry is linked to the wild cabbage with similarities in appearance with kale or collards. It is generally believed to be native to the Mediterranean region, especially the north-eastern portion of this region in what is now the country of Turkey. Its history here dates back over 2,000 years.
After having undergone several transformations, it became popular in Europe in the 16th century and was taken to North America in the late 1600s. Cauliflowers were loved in the court of Louis XIV.
The English word cauliflower is likely derived from the Italian word cavolo fiore (cabbage flower or flowered cabbage).
Cauliflower is low in fat, low in carbohydrates, and high in dietary fibre, folate, water, and vitamin C. Here are some valid reasons for you to consume this vegetable.
Fights Cancer: Cauliflower contains sulforaphane, a sulfur compound that has also been shown to kill cancer stem cells, thereby slowing tumor growth. Some researchers believe eliminating cancer stem cells may be key to controlling cancer. Combined with curcumin, the active ingredient in turmeric, it helps prevent and treat prostate cancer. Other compounds like sulforaphane, indoles and isothiocyanates protect against various forms of cancer.
Boost Heart Health: Sulforaphane in cauliflower and other cruciferous vegetables has been found to significantly improve blood pressure and kidney function. Scientists believe sulforaphane's benefits are related to improved DNA methylation, which is crucial for normal cellular function and proper gene expression, especially in the easily damaged inner lining of the arteries known as the endothelium.
Anti-Inflammatory Properties: Cauliflower contains anti-inflammatory nutrients to help keep inflammation in check, including indole-3-carbinol or I3C, an anti-inflammatory compound that may operate at the genetic level to help prevent the inflammatory responses at its foundational level.5
Rich in Vitamins and Minerals: Eating cauliflower regularly is a simple way to get these much-needed nutrients into your body. For instance, one serving of cauliflower contains 77 per cent of the recommended daily value of vitamin C. It's also a good source of Vitamin K, protein, thiamin, riboflavin, niacin, magnesium, phosphorus, fibre, vitamin B6, folate, pantothenic acid, potassium, and manganese.
Boost Your Brain Health: Cauliflower is a good source of choline, a vitamin B known for its role in brain development. It is believed to boost cognitive function, and improve learning and memory. It may even diminish age-related memory decline and your brain's vulnerability to toxins during childhood, as well as conferring protection later in life.
Detoxification Support: Cauliflower helps your body's ability to detoxify in multiple ways. It contains antioxidants that support Phase 1 detoxification along with sulfur-containing nutrients important for Phase 2 detox activities. The glucosinolates in cauliflower also activate detoxification enzymes.
Digestive Benefits: Cauliflower is an important source of dietary fibre for digestive health. It has properties that can help protect the lining of your stomach by preventing bacterial over growth.
Combating Stress: Cauliflower has several antioxidants and phytonutrients, your body will be able to resist aging caused by your everyday exposure to pollutants, chronic stress, and more. If you don't have an adequate supply of antioxidants to help squelch free radicals, then you can be at risk of oxidative stress, which leads to accelerated tissue and organ damage.
RECIPES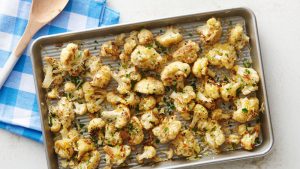 Roasted Cauliflower
1 tbsp vegetable oil

1 head cauliflower

1½ cups plain Greek yogurt

1 lime, zested and juiced

2 tbsp chilli pdr

1 tbsp cumin

1 tbsp garlic pdr

1 tsp curry pdr

2 tsp kosher salt

1 tsp black pepper
Method
Preheat the oven to 200°C and lightly grease a small baking sheet with vegetable oil. Set aside.
Trim and clean the cauliflower.
In a medium bowl, combine the yogurt with the lime zest and juice, chilli powder, cumin, garlic powder, curry powder, salt and pepper.
Dunk the cauliflower into the bowl and coat the marinade well.
Place the cauliflower on the prepared baking sheet and roast until the surface is dry and lightly browned, 30 to 40 minutes. Let the cauliflower cool for 10 minutes before cutting it into wedges and serving alongside a big green salad.
Kung Pao Cauliflower
1 large cauliflower head

2 tbsp cooking oil

1 green pepper; sliced

1 red pepper; slices

1 leek onion; cut into 2cm sections

3 cloves garlic; minced

1-inch ginger; sliced

½ cup roasted peanuts

3-5 dried chilli peppers; cut into small pieces
For Stir Fry Sauce
1 tbsp Sichuan pepper

½ tbsp dark soy sauce

1 tbsp light soy sauce

1 tsp salt

1 tbsp cornstarch

1 tbsp vinegar

2 tbsp water

½ tsp sugar
Method
Cut cauliflower into smaller floret pieces.
In a small bowl, mix all the ingredient for stir fry sauce and set aside.
Heat up cooking oil in wok over slow fire, and then fry garlic, ginger, leek onion, Sichuan pepper and dried chilli pepper until fragrant. Place cauliflower in and fry for 1-2 minutes until the florets become soft.

Stir the sauce well again and pour it into the wok. Add red peppers and give quick stir so that the cauliflower is well coated with sauce.

Add toasted peanuts and green onion sections. Mix well and serve hot.
Gobhi Parantha
 1 cup whole wheat flour

Water

 ¼ tsp salt

1 tsp oil

1 cup shredded cauliflower

½ tsp coriander pdr

¼ tsp ajwain seeds

2 tbsp chopped coriander leaves

1 green chilli, finely chopped

Salt, to taste

Garam masala, to sprinkle
METHOD
In a bowl mix together atta, oil and salt. Add water and knead well to form a smooth soft dough. Cover and let it rest for 15-20 minutes. Divide the dough into equal parts.
For Stuffing
Mix the grated cauliflower along with coriander powder, chopped green chili, ajwain seeds and chopped coriander. Do not add the salt and garam masala at this point.
Making Parantha
Take one of the dough balls and form a small circle.. Apply little oil and place 2-3 tablespoons of stuffing in the centre.
Sprinkle salt and garam masala powder on top.
Now take all the sides of the dough and pinch it all together. Seal any gaps.
Using a rolling pin, roll the dough again to a circle of 7-8 inch diameter.
Transfer the rolled parantha onto the hot tawa. Cook on both sides by flipping and applying little oil. Remove when it is crisp and brown.