Earlier this month, India Se Media was taken on a media fam tour to Bintan to explore more of Bintan. Who would have known that Bintan had things from a Mangrove Discovery Tour to fancy rooftop bars to catch the gorgeous sunset?
Bintan has their International Bintan Marathon from 7th to 8th September. The routes are so well thought out and scenic, I think its every runners dream!
The vision for this run was to make it as beautiful as possible for families and single runners to enjoy and take their mind off the run especially during the last few kilometers. What's also really cool is that they have a category called the Family Run. This is for families who would like to participate in the run with kids. It's a 5km run with activities slotted in within the route. Personally, I think it's such a fresh idea and a great way to get the kids involved in this run as well. Activities during this marathon include a Bouncy Castle, Hula Hoops, 'Floor Is Lava' and it ends off with a foam party! All activities are parent and child inclusive and such a cute way to spend some time with your kids – away from Singapore and all other responsibilities.
If you are interested in running for the International Bintan Marathon, we have a few promotional codes for you.
$5 off Family/10km run: INDIASE5
$10 off Half/Full run: INDIASE10
While planning to run for this, a vacation would be a good way to calm the muscles and get ready for work again the following week. During this Media Fam Tour of Bintan Resorts, we realised that from crystal lagoons to sand dunes, Bintan has it all! While Bintan resorts would be the perfect 'chill vacation', here are the top 5 things we did at Bintan that you would love-
Mangrove Discovery Tour 
After our arrival at the Bintan ferry terminal, our first stop was the Mangrove Discovery Tour. The entrance to this attraction is a muddy walk through a forest to get to the stand on bamboo stilts. We were handed our lifejackets and through some arrangement, we walked out onto a tiny jet boat.
We had a guide who stood right on the tip of the boat while we sped through the waters and made our way to the mangrove. We were introduced to the different uses of the mangrove tree and the different types of trees.These trees are now under protection and cant be cut to use for charcoal, furniture or anything else.
Through these mangrove trees, we spotted a python, wrapped up in a coil right over our heads. Early in the mornings, a range of animals can be spotted, from monkeys to snakes to small crocodiles! It would be really fun for kids as well and the boat does speed up quite a bit and water splashes on the people sitting on the edges. 
Treasure Bay Bintan
After the mangrove discovery tour, we moved on to Treasure bay for a heavenly lunch at the restaurant at Canopi. We were a group of 11 and we ordered a variety of dishes that were so yum! I would recommend the Carbonara Spaghetti, Satay, Fish and Chips, Calamari and the Nasi Goreng.
After this heavy meal, we checked into our accommodation. This is where I actually saw 'glamping' in real life and oh my god! It was one of the best nights I've ever spent in a 'hotel'.
From the outside it has a Coachella vibe with the huge white tents. These tents house 1 king size bed and a pull out bed as well.
One tent accommodates around 2-3 people and its the perfect accommodation for a group of friends or couples! For families, 2 tents may be required to fit a family of 4.
Right outside this accommodation is the Crystal Lagoon which is home to over 10 water sports that suit kids and adults. They have activities like, wake-boarding, rental of picturesque floats, water slides and (gliding from one place to another term?) Spend the day at Treasure Bay (stay at Anmon Treasure Bay)- rate is about 120 SGD until October when they launch officially.
Hipster Cafes
After a thrilling ATV ride, we went to have dinner at Warung Yeah! At Lagoi Bay. The sunset here is not to be missed – its nothing like you have seen in Singapore!
Gurun Pasir Bintan
The next day, we started with a huge breakfast spread at Anmon. With a full belly, we proceeded to one of the most beautiful locations in Bintan – Gurun Pasir Bintan.
This place had acres of sand dunes with a gorgeous, blue lagoon right in the middle. Who knew that Bintan had sand dunes to offer?
Rimba Jaya Night Market
After such a hectic day, we headed to the Rimba Jaya night market. We had the best Goreng Pisang which is a fried banana snack topped with chocolate, condensed milk and cheese! One serving was enough for 4 people and it was just so yummy.
Bonus – All the food to eat! This 3D2N Media Fam Trip included a lot of eating and indulging. Here are the top 5 dishes you absolutely MUST HAVE in Bintan!
Nasi Goreng Seafood 
Indomie Chicken
Cereal Sotong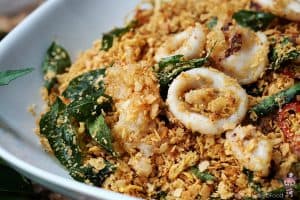 Goreng Pisang
Rum Punch