Health Food – The Kumquat Is A Fruit That's Good For You In So Many Ways
Derived from Cantonese 'gam gwat' which means "gold orange", these Kumquats are considered auspicious and their shrubs are often used as ornamental plants during the Lunar New Year.
While kumquats are much smaller than other citrus fruits, you can eat the entire fruit including its skin, zest and pips. Though the flesh is sour with a hint of bitter, the skin is actually sweet. These shrubs are native to the Asia-Pacific region, but spread to Europe and the Americas in the 19th century. Today there are different varieties which are used in many dishes.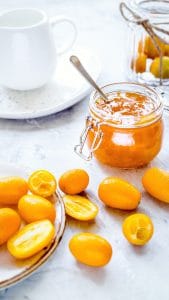 Kumquat Marmalade
2 lemons; thinly sliced
450 gm kumquats; stemmed, seeded, and sliced
Reserve the seeds from the lemon and kumquats
5 1/2 cups water
400 gm sugar
Pinch of salt
METHOD
Put the lemon slices in a large non-reactive pot. Cover with cold water and bring to a boil. Reduce the heat and simmer until the lemons are translucent, about five minutes. Drain and discard the water.
Put the blanched lemons back in the pot. Tie the seeds from the lemons and kumquats securely in a piece of cheesecloth, and place them in the pot along with the sliced kumquats and water. Bring to a boil; remove from heat, cover, and let stand for 24 hours.
The next day, add the sugar and salt to the pot, and cook the marmalade for 30 to 45 minutes over medium heat. Remove the bag of seeds and when it's cool enough to handle, squeeze the seeds in the cheesecloth over the jam pot to so the pectin goes directly into the marmalade mixture.
Continue cooking until it has reached the jelling point, about 104ºC degrees. Check the consistency by cooling it on a cold plate.
Remove from heat and ladle the mixture into clean jars.
Kumquat Smoothie
30 small kumquats
1 mango, peeled and chopped
175 ml plain vanilla yogurt
¾ cup unsweetened almond milk
5-6 ice cubes
1 tbsp honey
¼ tsp vanilla
½ tsp ground cinnamon
¼ tsp nutmeg
METHOD
Cut the kumquats in half and remove any seeds.
Add all the ingredients to a blender and purée until smooth.
Garnish with another sprinkling of cinnamon, if desired.