COCKTAILS
Goodness Ginger Me
 2 two-inch fresh ginger, peeled

2 two-inch turmeric, peeled

1 lemon

4 tbsp honey

Sparkling water

Cayenne pepper

1 oz tequila
METHOD
Place ginger, turmeric and lemons into a juicer and allow to strain into a glass jar, stir in agave and store in a clean airtight container in the refrigerator for up to 2 weeks.
Add 1–2 oz of turmeric-ginger juice into a tall glass filled with ice. Add tequila, sparkling water and sprinkle a small pinch of cayenne on top.
Peppy Pepper
45 ml white rum

20 ml bergamot juice

10 ml sugar syrup

A few drops of Indian long pepper infused gin
METHOD
For Gin: Take 3 berries of Indian long pepper and infuse in half a litre of gin for 10 days. Shake the bottle at least once a day. Then filter and use.
Pour all ingredients into a shaker filled with ice and shake for 15 seconds.
Pour into a glass. Cut a peel of bergamot and squeeze over the cocktail.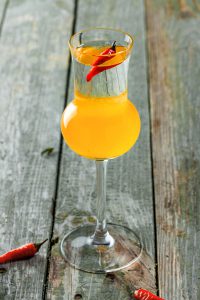 Birds Eye The Peach
Sparkling water

25 ml peach juice

3 tbsp granulated sugar

Juice of one lime

5 ginger slices

10 mint leaves

Lime slices

Bird eye chillies

10ml vodka

Ice cubes
METHOD
Add granulated sugar and filtered lime juice water to a small saucepan and give a quick stir.
Add peach juice to the saucepan and stir quickly. Add mint leaves and ginger slices and heat over medium fire. Stir from time to time and simmer until you get a light syrup, about 5 minutes.
Filter the syrup and chill in the refrigerator until serving.
Put ice cubes, limes slices and a bird eye chillies into the glass. Muddle if you wish. Pour the syrup on ice cubes and fill with a dash of vodka and sparkling water to the top.
Sharp Sawing Coriander
8 Sawtooth coriander leaves

15 ml Gin

5-6 cucumber slices

1 Lime

Ginger Ale
METHOD
Simply muddle around eight coriander leaves and some sliced cucumber in the bottom of a shaker.
Drop in some ice, add a squirt of gin, then squeeze over the juice of a lime.
Shake well, then strain into a glass half-filled with ice and pour over some Ginger Ale.